The Brubeck Arts Center is very excited to announce the 2022 – 2023 Performing Arts Series attractions. 
New this year, Wabash Valley College students receive free admission. 
For tickets, contact Donna Sigler at siglerd@iecc.edu or by calling 618-263-5124. Checks can be made payable to the Wabash Valley Arts Council.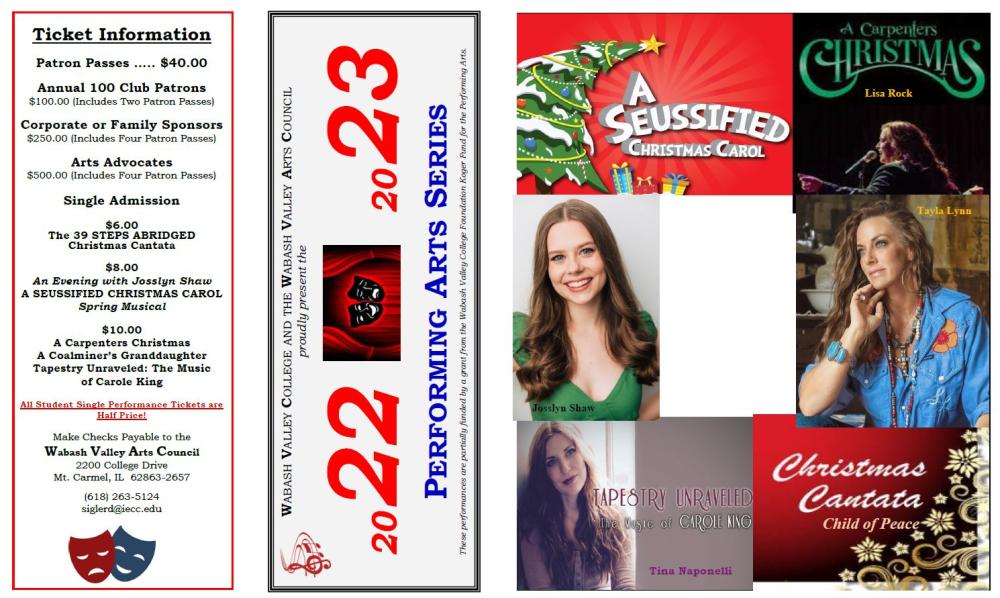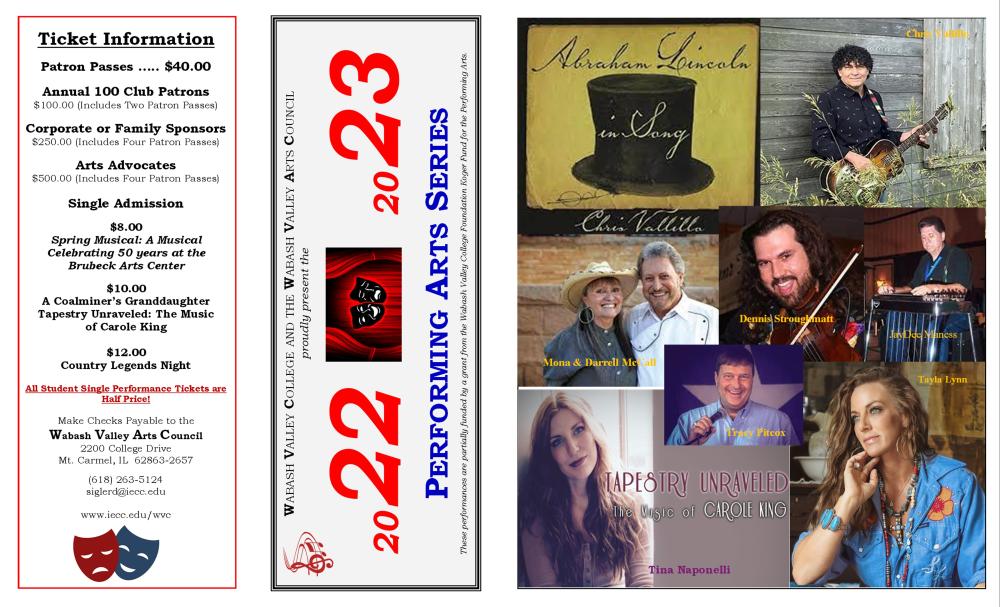 An Evening with Josslyn Shaw
7:30 | Saturday, November 26, 2022
Josslyn Shaw is an alum of MCHS class of 2017. She went on to earn her BFA in Musical Theatre from the Jeannine Larson Dobbins Conservatory of Theatre and Dance through SEMO in 2021, graduating Summa Cum Laude. Her collegiate career includes credits such as SHREK, UNLIMITED: THE MUSIC AND LYRICS OF STEPHEN SCHWARTZ, HEATHERS, and AN AMERICAN HERO which played at Theatre Row in 2018. Following graduation, she packed up her life in the Midwest and moved to New York to pursue her performing career. During her first year in NYC, some of her credits include NEXT TO NORMAL, THE MAGNIFICENT SEVEN, and NORTHSHORE VS WESTERBERG at Feinstein's 54/Below.  She is thrilled to be back in her hometown for this one-night event, even if she doesn't think she's famous enough to be doing her own show.
Christmas Cantata
Directed by Allison Dudley and Featuring the WVC Community Choir
1:30 | Sunday, December 4, 2022
A cantata (from Italian cantare "to sing") originally a musical composition intended to be sung, as opposed to a sonata, a composition played instrumentally. Cantatas for use in the liturgy of church services are called church cantata or sometimes sacred cantata, other times secular cantata. Johann Sebastian Bach composed around 200 cantatas. Several were, and still are, written for special occasions, such as Christmas cantatas. Alison has chosen Child of Peace by Mark Hayes for our Christmas Cantata. This celebration of the birth of the Prince of Peace addresses anew all the aspects of the Christmas story. The narration is a mixture of scripture and introspective reflections on the Christmas season that guide listeners to examine their own hearts and lives to urge them to respond to the offer of peace.
A Carpenters Christmas featuring Lisa Rock
7:30 | Thursday, December 8, 2022
While the Carpenters are known for over a dozen chart-topping hits, they also won over their fans with their Christmas celebrations. Singer and playwright Lisa Rock and her 6-piece backing band are bringing their unforgettable Christmas songs to the stage. Based on the music of The Carpenter's two-holiday albums and Christmas variety shows, A Carpenters Christmas and featuring "Merry Christmas Darling" and the jazzy "Santa Claus is Comin' to Town", it's a holiday concert that spreads joy and cheer to all. Lisa Rock and her band are keeping The Carpenter's holiday traditions alive with spot-on renditions of their unforgettable Christmas tunes.
A Seussified Christmas Carol
The Children's Theatre of Cincinnati
1:30 | Sunday, December 18, 2022
Dicken's most beloved story, in wacky rhyming word, the Children's Theatre of Cincinnati classic Christmas show this year is better seen and heard. From Ghosts of Past and Present to Timmy Loo Hoo, this festive holiday tale is a gift from the Children's Theatre of Cincinnati to us. It is not affiliated, endorsed, or sponsored by Dr. Seuss Enterprises.
Lincoln in Song featuring Chris Vallillo
2:00 PM | Sunday, February 26, 2023
With Abraham Lincoln in Song, Chris Vallillo takes the audience on a musical journey, making history come alive with his excellent blending of music and storytelling." Chris Vallillo is a singer/songwriter and folk musician who makes the people and places of "unmetropolitan" America come to life in song. Having spent the last 35 years in the rural Midwest, he has a natural affinity for American roots music.
 Performing on six-string and bottleneck slide guitars and vocals, Vallillo weaves original, contemporary, and traditional songs and narratives into a compelling and entertaining portrait of the history and lifestyles of the Midwest. Dirty Linen magazine described the music as, "vivid, original story songs" delivered with an "eye for detail and a sense of history" while Folk Wax Magazine Editor, Arthur Wood said "Vallillo's guitar playing flows like warm honey and is a true aural delight."  
This production is brought to you courtesy of the Illinois Humanities Council.
A Musical: Celebrating 50 years at The Brubeck
7:30 PM | March 16, and 17, 2023
1:30 PM | March 19, 2023 
The Brubeck Arts Centre Theatre has been the home to countless shows over it's 50 years, including community musicals, community drama productions, comedy acts, children's theatre, magicians, traveling tribute concerts, country stars of the Grand Ole Opry, Christmas shows, Big Band, and the list goes on.  To celebrate our 50 years of hosting shows, we are producing a collection of musical performances and vignettes from some of our favorite community productions and traveling shows. This musical production will be unlike others because there isn't one like it, anywhere. 
A Coal Miner's Daughter
7:30 | Wednesday, March 29, 2023
Born into one of Nashville's greatest musical dynasties, Tayla Lynn's passion for singing and performing was sparked from an early age.  "I can't remember a time that I wasn't in the wings in some town somewhere, watchin' my Memaw (Loretta Lynn) and my Daddy (Ernest Ray Lynn) on stage," recalls Tayla.  Tayla has performed countless shows with her "Memaw" Loretta over the years, including the Grande Ole Opry, and brings an authenticity that can only come from the granddaughter of the Queen of Country   Music.  This show will feature many of Loretta Lynn's hits including "You Ain't Woman Enough," "Somebody Somewhere" and the iconic "Coalminer's Daughter."
Tapestry Unraveled: The Music of Carole King
7:30  | Saturday, April 15, 2023
Tina Naponelli has captured the true essence of Carole King and brings to you a unique and unforgettable tribute experience. Tina's powerful voice and soulful dedication pay homage to the iconic Queen of Pop.  Together, with her bold 5-piece band, they create impressive renditions of "Feel the Earth Move," "Chains" and "You've Got a Friend," from Carole King's "Tapestry" album, as well as other favorites.  Hailed one of the most successful and talented female pop artists, Carole King has carved out an iconic place in music history.  From her beginnings as the songwriter of classics like "Will You Love Me Tomorrow" (The Shirelles) and "Take Good Care of My Baby" (Bobby Vee, 1961), Carole King began her rise to the Music Hall of Fame.  In 1971, her solo album "Tapestry" launched her to the top of the charts with hits like, "Feel the Earth Move" and "Natural Woman," winning her four Grammy Awards for Best Record, Song and Album of The Year as well as Best Pop Vocal Female Performance.
Pedal Steel Guitar Legend Workshop with JayDee Maness
9:00 AM | Tuesday, April 25, 2023
The Business and History of Country Music Workshop with Darrell McCall, Mona McCall, and Tracy Pitcox
10:00 AM | Tuesday, April 25, 2023
Country Legends in Concert featuring Darrel McCall, Mona McCall, Jaydee Maness, with Hall of Fame MC and DJ Tracy Pitcox and special guest fiddler Dennis Stroughmatt
7:00 PM | Tuesday, April 25, 2023
A powerhouse of legendary musicians to stop at the Brubeck Arts Center Theatre on Tuesday, April 25 at 7pm.  Darrell McCall has written number one hits for some of the greats in Country Music, including Hank Williams Jr., but Darrell is a legend in his own right with countless performances on The Grand Ole Opry, Hee Haw, RFD-TV, his own solo recorded hits and his hits with longtime friend, Willie Nelson.  Pedal Steel Guitar virtuoso JayDee Maness, based in California, is almost a household name amongst musicians worldwide.  JayDee is one of the most successfully recorded steel guitarists in history with credits ranging from Buck Owens, David Frizzell, Mel Tillis, to the Byrds, The Desert Rose Band, Elton John, and even Eric Clapton.  Yes, it was JayDee Maness who recorded the iconic lead duet with Eric Clapton on the worldwide hit "Tears in Heaven."  Rounding out the show will be Mona McCall, the only woman to be a member of Buck Owen's Buckaroos, Texas Radio DJ Hall of Fame MC Tracy Pitcox, and our own Brubeck House Manager and RFDtv personality, fiddler Dennis Stroughmatt.