Welcome to Illinois Eastern Community Colleges 
Forward Together: Strategic Engagement Plan
2026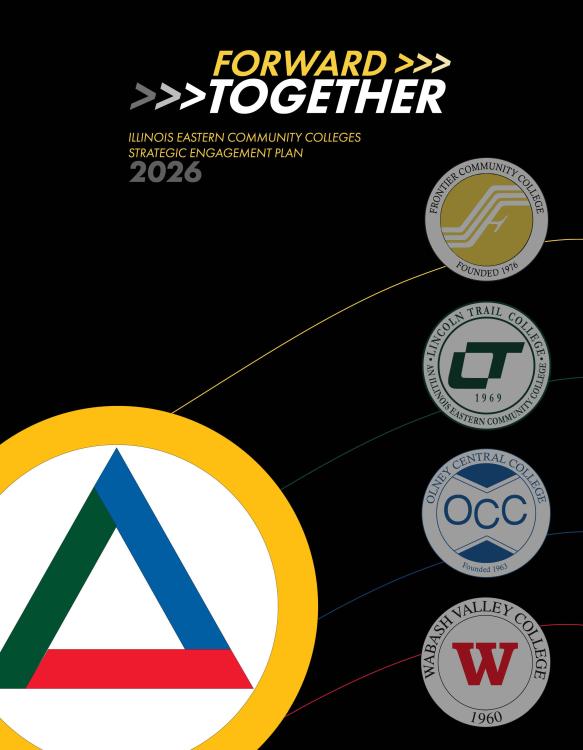 Illinois Eastern Community Colleges Strategic Engagement Plan, Forward Together, serves as the blueprint from which we will build structures, systems, and processes to better meet the needs of our students and our communities.
This plan, organized around four strategic pillars, was a collaborative effort led by Ruffalo Noel Levitz with extensive input from internal and external IECC constituents.  The members of the Strategic Engagement Planning Council, led by Chancellor Gower, will monitor the implementation and effectiveness of the plan.  Annual progress reports will be published for the campus community and will be formally presented to the IECC Board of Trustees at the start of the new fiscal year.
This plan is the culmination of more than a year of conversations, deliberations, and decision-making.  While we believe the plan establishes a firm foundation for guiding our actions and allocating our resources, the pandemic has clearly demonstrated the importance of being nimble and flexible to respond to unforeseen or emerging circumstances.  Even in such occurrences, IECC will strive to use cross-functional teams in our decision-making process, and is committed to formulating plans and actions that are transparent and data-informed. 
---
---
Transform Lives Through Exceptional Education and Services
Transform Lives Through Exceptional Education and Services
Putting students first has always been the hallmark of IECC and our four Colleges. Recognizing that exceptional education is more than job training or exposing students to knowledge, IECC will pursue innovative ways to engage student learners and deliver experiences that equip them with the knowledge, skills, and characteristics they need to positively impact our communities.
Foster Excellence in Faculty & Staff
Foster Excellence in Faculty & Staff
IECC will recruit and actively work to retain faculty and staff who are experts in their fields and who are enthusiastic and capable of meeting the rapidly changing needs of our students, the environment, and the institution. We will invest in our people because they are our most valuable asset.
Cultivate & Steward Resources for Strategic Growth
Cultivate & Steward Resources for Strategic Growth
Institutions of higher education are entering into an era of unprecedented uncertainty. IECC will continue to streamline our operations and will place a renewed emphasis on building relationships with prospective students, alumni, industry, and donors to improve or create new revenue streams that can be invested into the strategic initiatives of our Colleges.
Positively Impact our Local Communities
Positively Impact our Local Communities
IECC will play a tangible role in improving the quality of life for residents of our local communities. We will continue to promote the value of education at primary, secondary, and tertiary levels, and will strengthen ties with regional partners to contribute to economic development while using our resources to meet the physical, social, and cultural needs of our residents.