The IECC District Workshop is taking place on Tuesday, October 4th, from 8:00am-3pm at Lincoln Trail College, and is a required workday for all full-time district employees. LTC part-time employees are invited to attend, but not required.
All four campuses are closed for the day.
The day is designated as "College Casual Day". 
All employees are encouraged to wear their campus colors and represent their institution. 
See the below flyer for more information regarding the details and itinerary for the day.
The workshop committee will be providing a continental style breakfast, coffee and tea bar. Jersey Mike's boxed lunches will also be served. There will be vegetarian and gluten-free options available.
Looking forward to seeing everyone on October 4th!
Due to road construction on Route 1, there are road closures both north and south of the main entrance, therefore take N. Tremble to E. 1150th Avenue N. and go east past the LTC North Campus, then turn right onto Route 1 and then right into the main entrance.
Questions? Email cetl@iecc.edu
---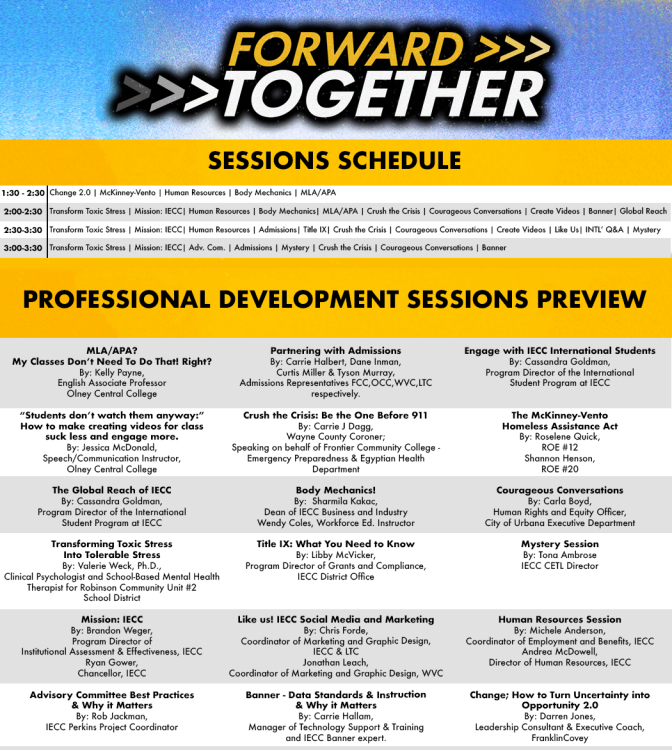 AGENDA
8:00-8:30 - Registration, Grab-n-Go Breakfast, Coffee and Tea Bar
8:30-8:40 - Welcome
8:40-9:25 - Keynote Speaker - Darren Jones
9:25-9:40 - Break
9:40-11:15 -  The Plan for Pathways - Chancellor Ryan Gower
11:15-11:30 - Q & A
11:30-1:00 - Lunch/Campus Tours
1:00-1:30 - Departmental Meetings and All Faculty Meeting
1:30-2:00 - Session 1
2:00-2:30 - Session 2
2:30-3:00 - Session 3
3:00 - 3:30 - Session 4
3:30 - Survey, candy bar to-go, dismiss