Digital Microscopes Welcomed Addition
Olney Central College's Life Science Department is benefiting from the purchase of four digital instructor demonstration microscopes bought with funds from the OCC Foundation.
Life Science Assistant Professor Nick Short said students new to the biological sciences often struggle when attempting to view items underneath the microscope.
"Many students are not able to find an image from a given slide on their own and without help from the instructor," Short said. "They may not recognize cues from the field of vision that would prompt turning of the adjustment knobs, mechanical stage controls or switching of objective magnifications. These cues are visible only to the individual microscope operator, which means that an instructor cannot see what a student sees or does, and a student cannot observe how an instructor goes about the image correction process. The OCC Foundation, through their generous gift of these digital microscopes, has fixed this problem."
The microscopes are equipped with a camera, which gives a live feed to a LCD touchpad screen mounted atop the microscope. This allows both the instructor and student to view microscope operation in real time. In addition, the camera is Wi-Fi capable, giving the instructor the ability to project the live video stream to the entire class and then save and manipulate these files that can be uploaded to Canvas (Classroom Learning Management System).
"These microscopes will change the way we teach microscopy by making the process more efficient, personalized, and dynamic," Short added. "We can't thank the Foundation enough for providing us with this teaching tool."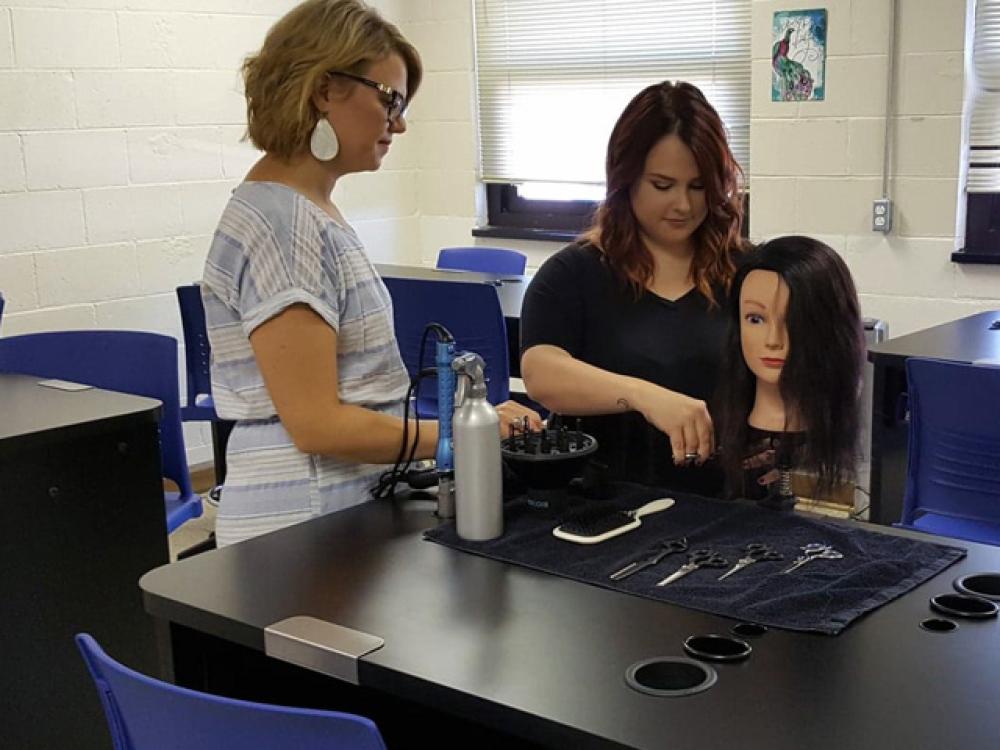 New Workstations Enhance Cosmetology Classroom
The School of Cosmetology is enhancing students' classroom experience with the addition of new workstations purchased with funding from the Olney Central College Foundation.
Specifically designed for use in a cosmetology classroom, each table provides four student workstations, featuring electrical outlets, space to hold various tools and bases where students can attach their mannequin training heads. The ergonomically designed stools will help to reduce back strain and fatigue students can experience.
"This is so much better for the students," said Director of Cosmetology Courtney Meadows. "The students have more space to work and the chairs can be adjusted, reducing the time students have to stand. The addition of these eight new tables will enable us to better prepare our students for success."
Meadows said the tables' design also makes it easier for instructors to engage with students and assist them with tasks.
"The new tables and chairs are wonderful," said Sydni Sorensen, a cosmetology student from Olney. "We are less crowded and have more personal space. We have a shelf where we can store our books. The tables are awesome."
Meadows added, "We would like to thank the Foundation for all of the support it has given to our program and its dedication to our students' success."