The Brubeck Arts Center is very excited to announce the 2023 – 2024 Performing Arts Series attractions. 
New this year, Wabash Valley College students receive free admission. 
For tickets, click HERE, contact Donna Sigler at siglerd@iecc.edu or by calling 618-263-5124. Checks can be made payable to the Wabash Valley Arts Council.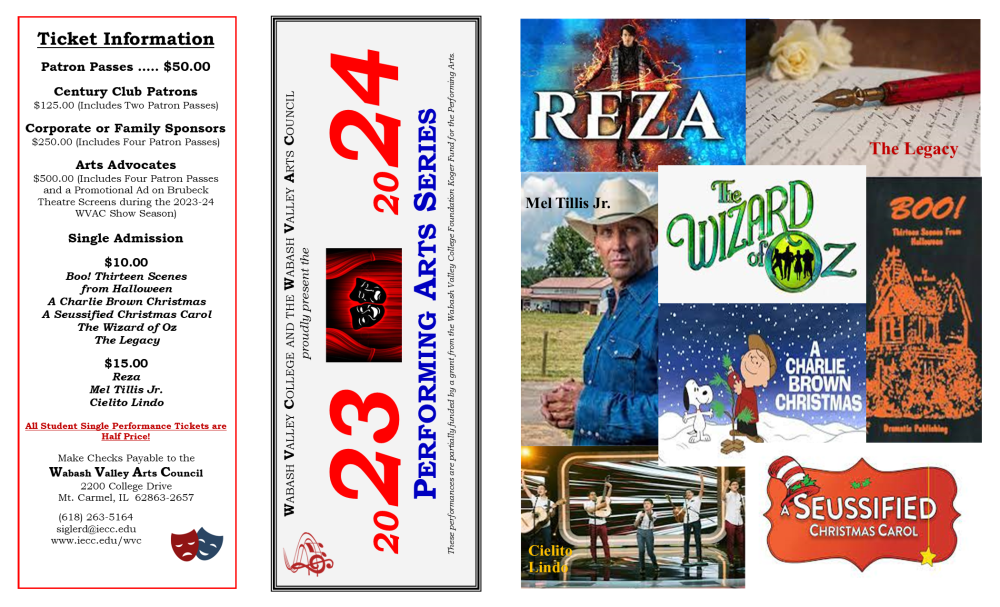 SPRING 2023-2024 WVAC/WVC Performing Arts Series
This year's season will begin on October 19, 2023 & conclude on April 28, 2024
Click on a show's title for a direct link to purchase tickets
7:00, Monday, October 30, 2023
Reza is recognized as one of the most high sought -after entertainers in the touring illusion industry.  Reza delivers innovation and engaging spectacular performances. Reza began making his presence felt in the world of illusion at a very young age.  His focus in the art began at age seven.  By the age 14, Reza was landing significant gigs performing for resorts and large corporations across the Midwest.  Reza's unique brand of entertainment has landed him on popular reality shows across 31 countries including recent appearances on Duck Dynasty.  More than a magic show, Reza infuses state of the art production elements and masterful  comedic timing with audience interactions.
1:30, Sunday, November 5, 2023
Mel Tillis, Jr., from Nashville, TN, proudly carries on the musical tradition set forth by his father, Country Music Hall of Famer Mel Tillis.  For years many people have listened to the countless hits either written or performed by Mel Sr., such as "I Ain't Never," "Send Me Down to Tucson," "Ruby," "Heart Over Mind" and "Coca-Cola Cowboy."  Mel Jr. toured with his father for many years, worked with him for many seasons at his Branson theatre and intimately knows the stories and funny themes behind many of those famous songs.  But Mel Jr. is a great vocalist and songwriter as well. As a songwriter, Mel Jr. has had songs recorded by Reba McEntire, Trace Adkins, Lee Greenwood, Billy Currington, Ricky Skaggs, Chris LeDoux, Gene Watson, Suzy Boguss, Ty Herndon and Clinton Gregory, and received BMI honors as co-writer of Jamie O'Neal's #1 Grammy nominated hit single, "When I Think About Angels."  We are excited to welcome Mel Tillis Jr., and his band, The Memory Makers, to the stage of The Brubeck Theatre. 
A Charlie Brown Christmas with the WVAC Christmas Choir
1:30, Saturday & Sunday, December 2 & 3, 2023
This classic animated television special A Charlie Brown Christmas comes to life on the stage of the Brubeck in this faithful stage adaptation in which Charlie Brown, Snoopy and the rest of the Peanuts gang discover the true meaning of Christmas.  Filled with wonderful Christmas themes and music from the original television special, this show will also include a special performance of additional Christmas songs by our very own WVAC Christmas Choir.  Co-directed by Mikayla Beck and Allison Dudley.
 

A Seussified Christmas Carol
The Children's Theatre of Cincinnati
7:00, Monday, December 11, 2023
Dicken's most beloved story, in wacky rhyming word, the Children's Theatre of Cincinnati classic Christmas show this year is better seen and heard!  From Ghost of Past and Present to Timmy Loo Hoo, this festive holiday tale is a gift from The Children's Theatre of Cincinnati to us!  A SEUSSIFIED CHRISTMAS CAROL is not affiliated, endorse or sponsored by Dr. Seuss Enterprises.
The Wizard of Oz
Community Theatre Production
7:30, Thursday & Friday, February 22 & 23; & 1:30, Sunday, February 25, 2024
We're off to see the Wizard! This beloved tale, in which a Kansas farm girl travels over the rainbow to discover the magical power of home, has entertained audiences for generations.  The WVAC is proud to present this musical for all ages with a cast of all ages. The Lion, The Tin Man, The Scarecrow, Toto, Dorothy and the Wicked Witch; you know them all.  This performance presented by the WVAC will be directed by Amanda Andrews, with a live pit crew of community musicians, is expected to have a large cast and will thrill audiences! Don't miss this show!
The Legacy
1:30, Sunday, April 7, 2024
An intimate portrait of a young man and woman told through their love letters.  The Legacy was written by Mt. Carmel native Alicia Kae Koger and her colleague Judith Midyett Pender.  While cleaning out her parent's home after their deaths, a bereft Mae discovers the letters they wrote during World War II.  When Alice and Leonard come to life as 20-year-olds, she begins to understand who they truly were and how their legacy shaped her.  This intimate family portrait features actors from the University of Oklahoma and is directed by Judith Pender.  It is produced in cooperation with the Helmerich School of Drama at OU
Cielito Lindo
1:30, Sunday, April 28, 2024
As seen on Nickelodeon's America's Most Musical Family, WGN, Univision and Chicago Tonight, Cielito Lindo is a modern Latino mariachi formed by the Lucero Family of 9. the children range in age from 7 to 18 and have performed for numerous large events including Bulls games, galas, festivals and various television programs. With a fresh look and youthful energy, the Lucero family performs traditional music of Mexico and is passionate about sharing their music and culture. The WVAC welcomes Cielito Lindo to the Brubeck stage.