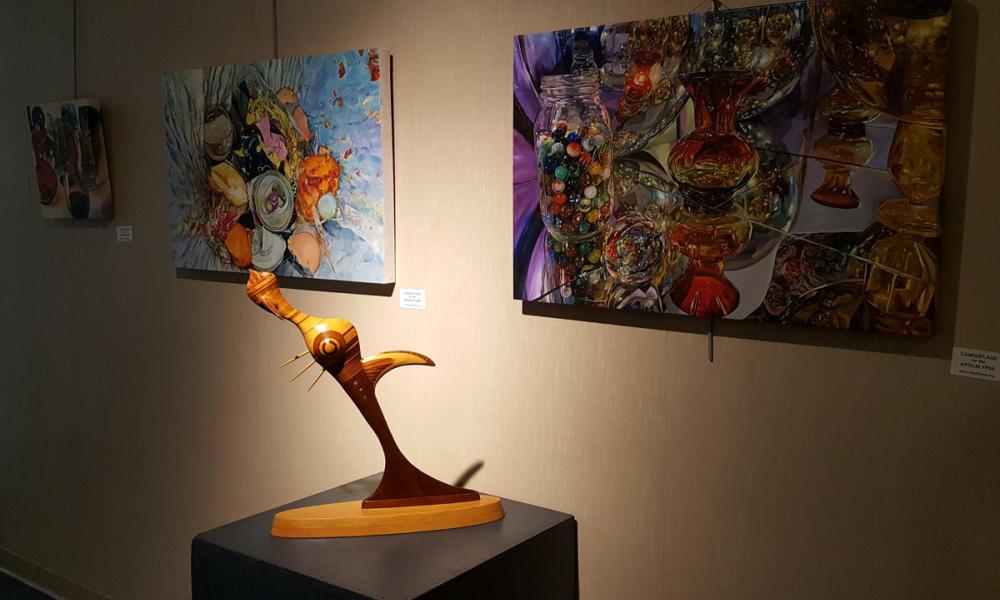 Jun 22, 2022
The Anderson Library has opened its gallery this summer to feature works by local artists Bob Treece and Joe Gower.
"I really hope people enjoy it and the space," said Chad Groves, Director of Instructional Support Services. "It is something a little bit different and I hope people will stop in to see it."
Both artists are originally from Olney. Treece attended The Art Institute of Chicago and paints in both realist and surrealist styles. Galleries in Chicago and St. Louis exhibited his artwork while he was living in those cities.
Treece says of his artwork, "My realist paintings are in oil on canvas, usually painted from life and in some cases photos. My surrealist paintings are manifestations of unconscious, undifferentiated energy I am only just aware of and am fiendishly fascinated by."
Treece's surrealist pieces consist of poured or splattered paint, digitally manipulated printouts of previous paintings, ink, charcoal, spray paint, plastic and fire. Treece also is known for his murals, which are featured in The Holiday dining room and outside Hovey's restaurant.
Gower has lived throughout the United States. A former OCC art instructor, he also taught on a Native American reservation. His work includes paintings and 3-D drawings.
"Both are really dedicated and good at their craft," Groves said. "I think they are a very good pairing, I'm thrilled to have them and have other people here to enjoy their work."
Groves hopes to exhibit works by other local artists in the future.
"This is something I would like to continue doing," he added. "I would like to use the gallery space more than we have. It brings a certain energy and excitement to the place."
Groves encourages the public to view the exhibit which runs through mid-August. Gallery hours are 7:30 a.m. to 4 p.m. Monday through Friday.