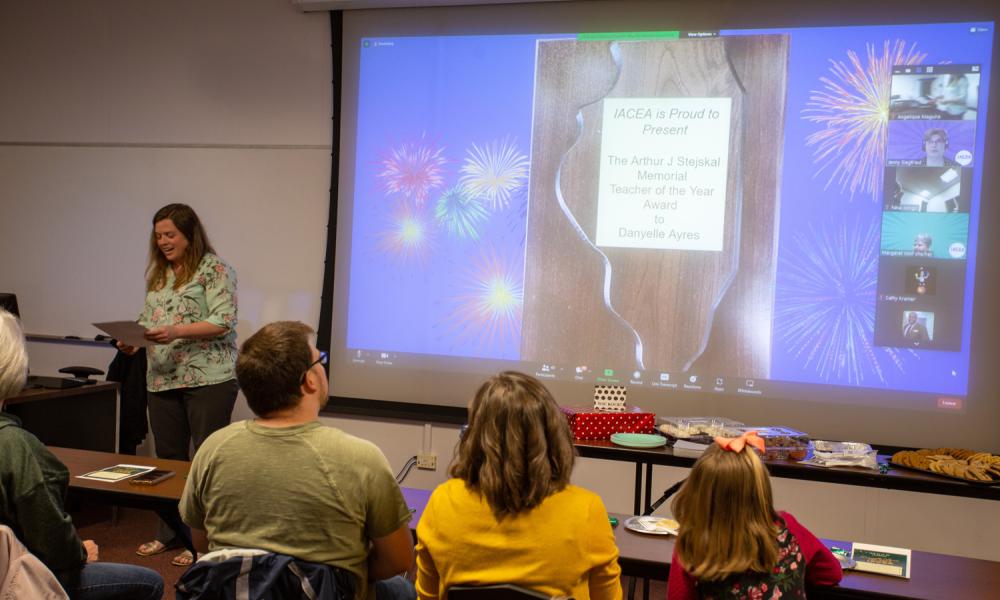 May 11, 2022
The Illinois Adult and Continuing Educators Association recognized Lincoln Trail College instructor Danyelle Ayers as the 2022 Arthur J. Stejskal Teacher of the Year. She received the award at a virtual ceremony on May 5, which is Teachers Appreciation Day. 
The Teacher of the Year Award recognizes a teacher who demonstrates a commitment to adult and continuing education and recognizes and understands the physical, psychological, social, and cognitive characteristics of adult learners. The Teacher of the Year also provides a supportive atmosphere for learning and assists learners in formulating personal learning objectives and assessing progress towards those objectives.
Ayers started teaching LTC's morning adult education class in 2018. In her nomination letter, she was described as someone that goes above and beyond for her students, her work peers, the program, and her community. She was described as a genuine and dedicated instructor who shares not only her knowledge and expertise but puts her heart into all she does. 
One of Ayers' students, John Evans, who completed the program in 2019, wrote a letter of support for her. "If it wasn't for Danyelle encouraging me to keep going even when I was ready to give up, I wouldn't have the job I have now. If anyone deserves a teacher's award it's her. This woman won't let you give up and she won't give up on her students!"
Ayers is LTC's Adult Basic and Secondary Education instructor for morning and evening classes. She is also the Adult Education Academic Support at LTC and also teaches the support class for the Integrated and Education (IET) Welding program along with remedial classes. She says she wanted to become an instructor for Adult Education to help people.
"I enjoy helping people achieve their goals. I like motivating and encouraging them to keep striving for what they want. I like to see the sense of accomplishment they have as they progress through the stages of our program."
Before teaching at LTC, she served as a teacher in Villa Grove and Hutsonville. She earned an Associate of Science from LTC and then a Bachelor's in Education from Eastern Illinois University.