Frontier Community College would not be what it is today without the efforts and contributions from its Foundation.  The initial vision and dreams set forth by a small group many years ago helped shape FCC into a college campus boasting ten buildings across more than fifty acres.
In 1977, a group of concerned citizens met to discuss the need for higher education.  Together, they formed a Foundation for the College of Continuing Education, which would later be renamed Frontier Community College. The members consisted of Don Gillison, Joe Fleming, Preston Mathews, and Richard Mason (the first President of Frontier Community College).  Many group discussions took place at Rob's Coffee House near the courthouse in Fairfield, and it was during this time they decided to form the Foundation under the laws of the State of Illinois.  In March of 1978, the first organizational meeting of the FCC Foundation was held.
At the time the Foundation was formed, the college campus consisted of a 2600-square foot administrative building and one classroom building on three acres of land.  The Foundation had been discussing the college's needs with Fairfield's mayor and city council.  In the spring of 1979, 35 acres of land were conveyed to the Foundation with the stipulation that the land was to be used for building projects.  And build they did.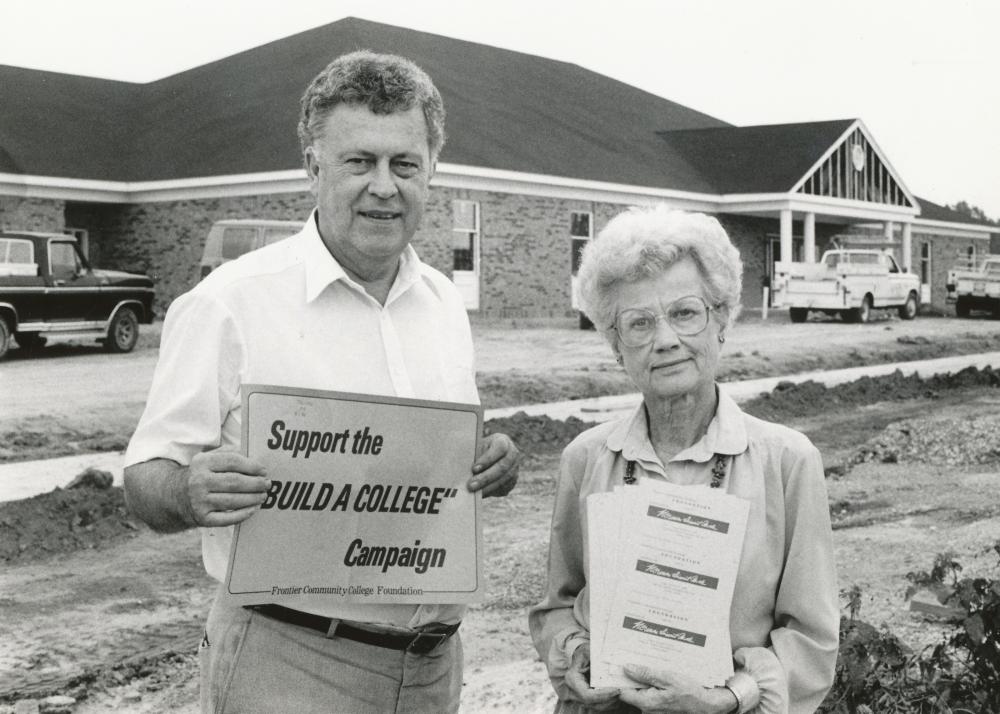 Foundation funds have been used to assist in acquiring and building the campus as it stands today.  Significant projects include Mason Hall (formerly Richard L. Mason Building), Bob Boyles Hall (formerly Foundation Hall), the Workforce Development Center, the Learning Resource Center, and The Bobcat Den.  The Foundation also assisted with securing property on which Bobcat Crossing, a student housing segment, stands today.
In addition to the construction of buildings on Frontier's campus, the Foundation has also assisted with multiple campus improvements.  In 2005, Rotary Plaza was established at the intersection of campus sidewalks just north of the Adult Education Center.  This spot was created to not only commemorate a century of service by Rotary International, but also to pay tribute to 100 years of education in Wayne County.  To raise money for the project, a brick paver fundraiser was held.  A total of 300 bricks are in place today, which generated a total of $15,000 in donations.
At the beginning of 2007, the FCC Foundation decided to construct a welcoming brick sign at the eastern edge of campus.  The project was designed with a colonial style to complement Frontier's existing buildings, and it was completed by June 2007.
The Foundation has accomplished much since its inception, and it strives to continue creating change for the future of Frontier Community College.  Completed projects would not have been possible without the generous support of our local community, and you can be part of this legacy, too!  Please contact us if you are interested in serving on the Foundation, providing a generous donation, or sponsoring one of our upcoming fundraisers.