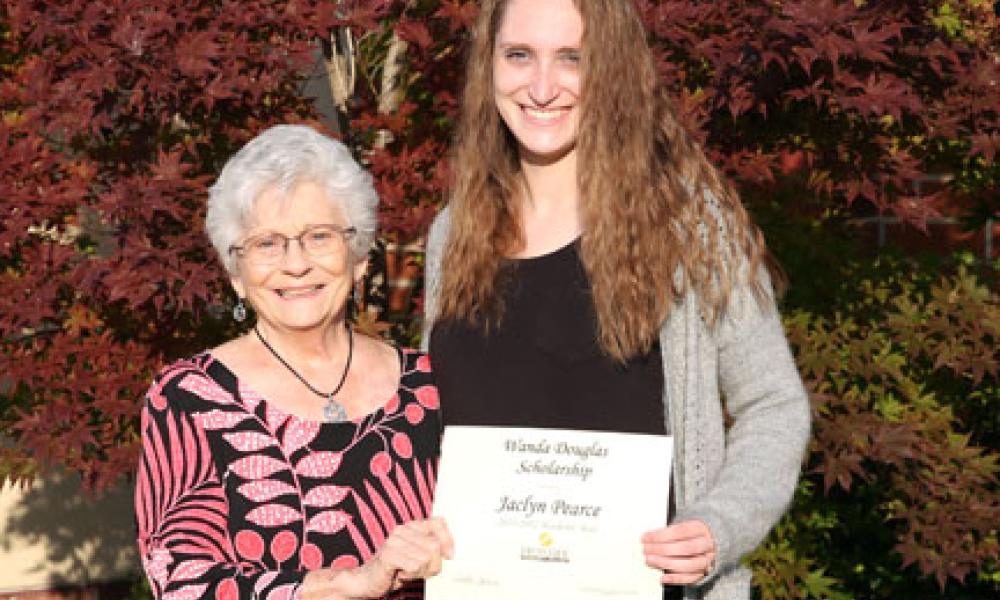 Nov 17, 2021
During her teaching career, Wanda Douglas has trained and inspired a generation of nurses working in healthcare facilities across the country. Her dedication to the nursing profession and community has left a lasting impression on many, including two former students who created a $10,000 scholarship in her honor.
Douglas says she was shocked when the two donors, who wish to remain anonymous, contacted her late last fall. Over the years, the pair had never forgotten Douglas' kindness to them while nursing students at Frontier Community College.
"They told me, 'We are where we are today because of you,' and wanted my permission to establish the scholarship in my honor," Douglas said. "I cried. I couldn't even talk when they told me. I've had a lot of honors and recognitions in my career. I was selected nursing student of the year when I graduated from Olney Central College. When I received my bachelor's degree from Texas Tech University, I was the student of the year and the first distinguished nursing alumni of the Health Sciences Center School of Nursing. At the University of Texas at Arlington, I was the outstanding nursing administration graduate student. Of all the honors I've received, this is the greatest — to be recognized by two former students, who have been very successful. I am very grateful and humbled by their gratitude."
For Douglas, nursing was a second career. The Carmi native initially worked in accounting before completing her RN degree in 1973 at OCC. She earned a Baccalaureate degree from Texas Tech University Health Sciences Center at Odessa, a master's degree in nursing from the University of Texas at Arlington and completed 30-semester hours toward a doctorate in nursing at Louisiana State University Medical Center in New Orleans.
During her extensive career, Douglas has worked at hospitals in Illinois, Missouri, Texas and Louisiana serving in various capacities including nurse recruiter, clinical director and director of emergency services.
Douglas was executive director for the Louisiana State Nurses Association from 1994 to 1998 and the director of education at the Texas Nurses Association from 1998 to 2006. She has served as a nursing instructor for 17 years, the last 11 years at FCC where she has been the Nursing Department Head since 2016.
"Every time I think about retiring, I think, 'What would I do without the patients and the students,'" she said. "I love the students and they know that. It's a thrill to walk into a hospital and see your graduates working, many in key positions. There is no more proud feeling. It has been a joy to give back to the program that gave to me. I'm just thankful for the experience."
The Wanda Douglas Scholarship will be administered through the Olney Central College Foundation and will be awarded to a second-level nursing student at Frontier to assist with tuition, books, fees and other program-related expenses. Douglas in conjunction with the FCC nursing faculty selected Jaclyn Pearce as the first recipient.
The mother of two young children, Pearce is grateful for the additional financial assistance as she juggles work and school with her family commitments.
"It will definitely give me more time to be with my kids and study without one or the other suffering," she said. "I am so honored to be chosen. I never would have imagined I would receive a scholarship like this. It means a lot to me to know my instructors have this much faith in me. It was an unbelievable honor to be chosen."
Pearce knew she wanted a career in the healthcare field when she began working at a small home for the developmentally disabled shortly after high school.
"I loved getting to know the residents and helping them," she said. "I just fell in love with caring for others and have worked in healthcare ever since."
While attending FCC, Pearce has continued to work at a long-term care facility.
"I love working at the nursing home," she said. "You really get to know the residents because they are with you day in and day out. Being there the past year with COVID, has meant a lot to them and to me."
After graduating in May, Pearce plans to work as a registered nurse until both her children are in school. She then hopes to continue her education and complete a bachelor's degree in nursing.