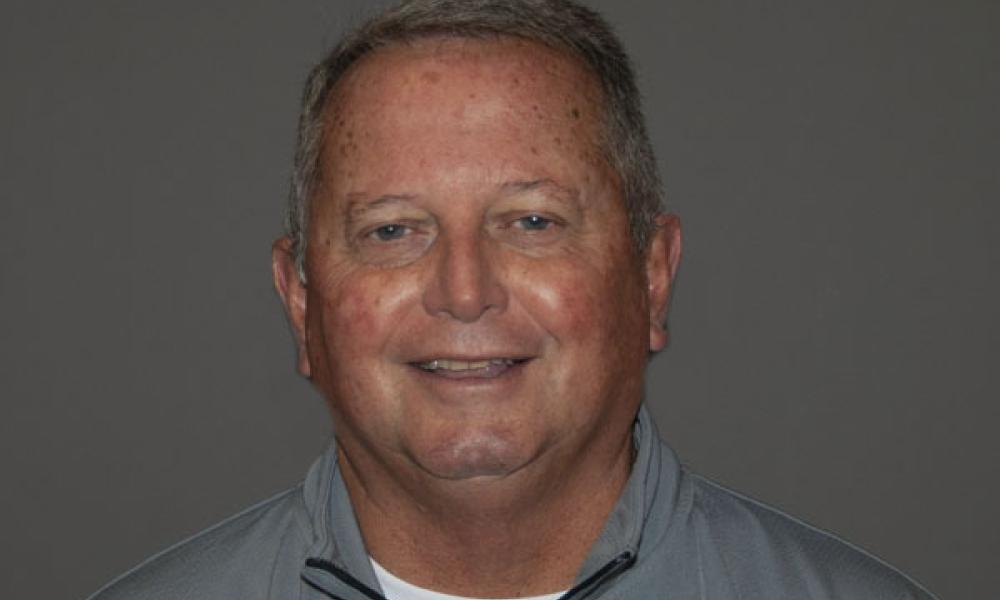 Jun 28, 2023
On June 30, an era will come to an end as Olney Central College Baseball Coach Dennis Conley retires after 43 years with the Blue Knights.
When Conley started his coaching career at OCC, he was only a couple of years older than his players. In the intervening years, the Charleston native has devoted countless hours into building the college's athletic programs and developing top-notch players both on the field and in the classroom.
Named to the National Junior College Athletic Association Coaches Hall of Fame in 2010, Conley leaves the game as the second winningest active coach in the NJCAA and No. 3 on the all-time list. In March, he earned his 1,500th win. Conley wraps up his illustrious career with an impressive 1,518 wins and 40 consecutive winning seasons.
"I'm most proud of the fact we have been good consistently and our kids have been well-rounded, good students, citizens and players," Conley said. "I've enjoyed meeting a lot of people in the recruiting process over 43 years. I enjoy seeing the kids leave here and have success at all different levels. The experiences they have here carry over in their everyday lives as they start families and build their futures."
Conley joined OCC in 1980 after receiving his master's degree from Eastern Illinois University, where he was a member of the Panthers' baseball team. Through the years, he has taken on many roles at OCC, including women's basketball coach, assistant men's basketball coach, sports information director and academic tutor. He has served as OCC's athletic director for the last 39 years.
In 2008, Olney Central College and the Illinois Eastern Community Colleges District recognized Conley's outstanding achievements on and off the field naming OCC's baseball diamond in his honor.
"It's hard to put into words what 43 years means to an institution," said OCC Softball Coach Nick Short, who has worked alongside Conley in the Athletic Program for the past 15 years and will succeed him as Athletic Director. "When I'm out recruiting for softball, it is rare not to have someone come up and ask me about Coach Conley. The longevity is impressive, but to sustain consistent and regularly winning teams and have so many players move on and continue their careers is remarkable.
"We had a conference meeting recently and everyone there had comments like 'Coach Conley's are big shoes to fill, he is a great guy, and he is one of the good people in the business.' Everyone in that meeting had asked him for advice over the years. It's hard to replace that kind of experience. I'm glad he will still be around to lean on."
During Conley's tenure at OCC, 315 players moved on to four-year schools on baseball scholarships and 45 players signed professional contracts including Clint Barmes and Jerad Eickhoff, who played in the major leagues, and Phil Britton, who was named as Conley's successor last month.
"Coach Conley is on the Mt. Rushmore of people for me not just in baseball, but in life," Britton said. "I think he is probably one of the most underrated coaches, but people in the baseball world know how big he is and how many people he has helped over the years. I've been able to work my whole life in baseball, doing something I love, and I'm grateful to him for that. He gave me the opportunity to come out and play college ball in my hometown. He took a chance on a 165-pound, 5-foot-10 senior and those chances don't always work out."
Britton's ties to OCC baseball stretch back to his father, who as an OCC student, kept the scorebook for Conley during his first year at the college.
"Growing up and getting to see the guy from the time I was 8, 9, 10 — I have a crazy amount of respect for him. Here is where a lot of lessons were learned when I was in high school and college, and Coach Conley wasn't afraid to help me learn them," Britton said. "My mom and dad supported him in helping me learn those lessons because they knew he had my best interests at heart. He was very blunt, direct and to the point."
As head coach, Britton feels fortunate to still have Conley's counsel.
"I'm glad I can call him any time," Britton said. "He is going to enjoy some time away, but will still help us with recruiting and seeing players. He has earned the right to have some time off, but I'm going to need him at practices in a couple of years."
Conley's influence has reached all levels of America's favorite pastime. From Little League to the big leagues, his impact on the game and the lives of his players is immeasurable and will continue to reverberate for years to come.
"If he had an average of just 35 players a year, that's more than 1,500 kids whose lives he has impacted," Britton said. "That's 1,500 husbands and dads. The amount of people he has had an influence on is staggering. That doesn't include the time he worked with students outside of baseball when he was coaching basketball or as athletic director."
OCC alum Shawn Garrett was drafted by the San Diego Padres out of high school. He opted not to sign a contract choosing to pursue a college career at OCC instead.
"In talking to the pro scouts, the name Dennis Conley kept coming up," Garrett recalled. "They said, 'If you are looking for a spot to learn to play the game the right way, OCC and Coach Dennis Conley are the way to go.' That was a major deciding factor for me. I think I came in with the mindset if I wanted to become a professional baseball player, this was the place. Coach Conley demanded effort and was known for winning and developing players. He was someone who would hold you accountable, but that you could still joke around with. He became a lifelong friend and mentor. I felt like I could call him any time of the day or night. He was there to help solve problems and give advice."
After completing his courses at OCC, Garrett went on to play professionally for 11 years with nine different organizations. He currently lives in St. Peter and is excited his daughter will be playing softball at OCC this fall. He recently returned to Olney to watch one of Coach Conley's final games.
"He coached the same way he has been coaching for the last 40 years," Garrett said. "There was no coasting for him. He always wanted to win and that is how he is ending."
Conley's influence also stretches to places like Stevens Point, Wis., where former Blue Knight Tom Drohner has been a teacher and coach for 28 years. During his tenure, Stevens Point High School's softball team has captured eight state championships.
"Everything I say and do is the stuff Coach Conley taught me," Drohner said. "For me, he was the man. He was the biggest influence of my life. I remember one thing he always said, 'Make good decisions,' and I have applied that to everything in my life. It sounds so simple, but it was very impactful."
Drohner recalls fondly the 1987 and 1988 seasons playing for Conley.
"He was perfect for me," Drohner said. "He was a great motivator and unbelievable friend. I always tried to do whatever I could to make him happy. He was such a huge figure in my life. I loved the game of baseball, and I would do whatever I could for Coach Conley to like me. I have so much respect for him. I wanted to get better, and I knew he could help me do that. He held me accountable. The impact he had on me is profound. I grew up in a situation where I didn't have the greatest father figure at that point in my life. He was that father figure I needed. I wanted to impress him, and my work ethic was relentless in that pursuit. I hope I made him proud."
Kenny Marrs Graham played for the Blue Knights in 2000 and 2001. He received a scholarship to play baseball at Indiana University and after graduating went on to get his master's degree serving as a grad assistant at the University of Indianapolis.
"The thing I enjoyed most about playing for D.C. was how competitive he was and dialed in every practice, game or showing a new recruit around. Really, anything dealing with winning baseball games. It was a level of focus unmatched," Graham said. "The detail and understanding under his tutelage has driven a lot of my core coaching values to this day with the biggest one being, 'It's the little things that we do that mean anything.'"
Graham not only played at OCC, but also returned as an assistant under Conley.
"Playing and coaching with D.C. were two different, yet similar stories," he said. "As a player, his office door was always open and he would crack jokes and make you feel part of something bigger than yourself being in his program. That was as long as we were winning baseball games, which we were the majority of the time."
Graham added, "As an assistant coach, I spent a lot of hours with him in the office, at breakfast or lunch at different local restaurants that he loved to support. At these meals, I got to know Dennis as a husband, father and grandfather, which he took great pride of being all three. But once the bell rang for baseball, it was all business. He was elite at locking it in when he wanted to. When I was coaching with D.C., I had a lot of student loans and didn't have a lot of money in my pockets. We never spoke of it, but Dennis knew this and always took care of me buying, if not all, most of the daily meals we had together and more."
Following his stint as assistant coach, Graham joined the Toronto Blue Jays organization where he served as a minor league hitting coach and manager for seven years. He later served as the minor league hitting coordinator for the Milwaukee Brewers before becoming Director of Player Development with the Detroit Tigers.
"D.C. has had more impact on me and my life than any coach I've ever been around. He was always as honest and upfront as anybody I've seen in the game of baseball up to the highest level. There are too many examples to name the times that he told me what I didn't want to hear, but I needed to hear. It is his sixth sense. To this day, every player I coach I look to be as open and honest with them as Dennis was with me."
Graham added, "There will never be another Dennis Conley. But the impact he made on players, coaches and fans will live and thrive for generations to come throughout the world in life along with all levels of the game of baseball including the major leagues."
Bryce Labhart is another former Blue Knight who joined Conley's coaching staff. Labhart played at OCC from 2008 to 2009 and has spent the past 11 years as assistant coach.
"I think what I enjoyed most is his old school nature," Labhart said of Conley. "As a player, he was hard on you in a good way. As an adult, you see he was trying to make boys into men. As an assistant, I got to see how much he cares. He is a hardnosed coach, but behind the scenes he is always working to make better players and people. As a player, he taught me the right way to play. He always stressed the importance of going to class and academics were always the first priority."
For Labhart, one of his best memories of Conley occurred when the Blue Knights won the conference tournament for the first time.
"Coach Conley didn't show a lot of emotion, but that day you could see it and it was special," Labhart added.
Labhart said Conley truly cared about his players and their lives.
"On the bus, before and after games, you saw his personal side," Labhart said. "He would ask players about their families and classes. You also saw his sense of humor. He was very personal with players and that is kind of rare now. He was very personable with everybody. He was my boss, but I also consider him a good friend. We became very close. Those are the things I'm going to miss most."
As he prepares to step away, Conley is looking forward to spending more time with family, which includes two daughters, their husbands and his five grandchildren. He also intends on playing golf, fishing, catching up with family and watching his grandchildren's athletic events.
"I will miss the daily challenges working with young people at the school off and on the field. I have been very fortunate." Conley said. "The college has been good to me. It gave me opportunities at a very young age. The community has also shown us a lot of support over the years, and it was a great place to raise a family."
Reflecting on Conley's retirement, Short noted "It was going to happen, but I don't know if you are ever ready for it. He has left OCC with a firm footing for the future and a pretty long legacy. You always want to leave something better off than when you found it and that is most definitely the case here."