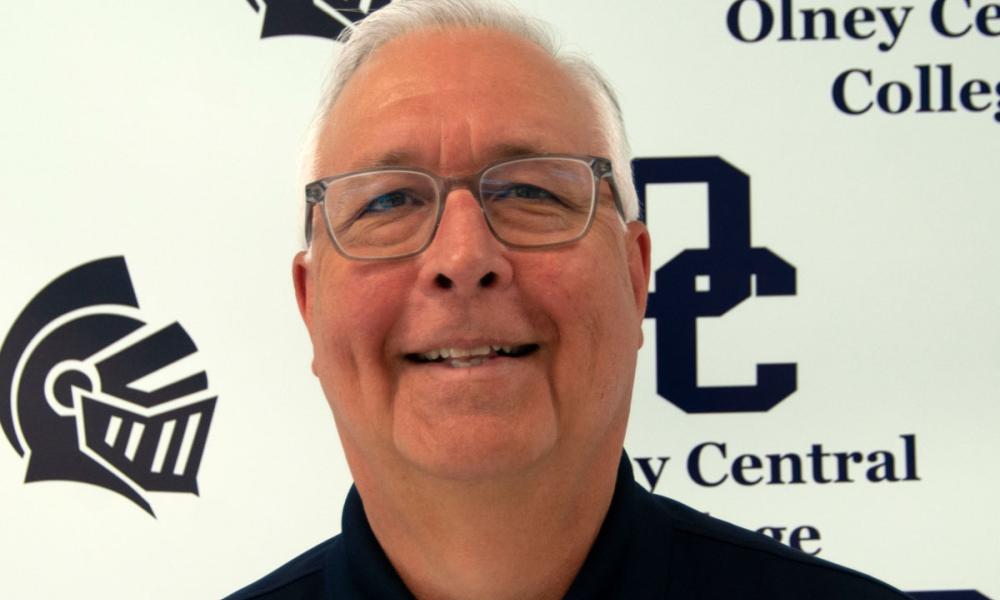 May 19, 2022
Jim Glash is back where his head coaching career began with Olney Central College men's basketball.
"This is very much like coming home," said Glash, who coached the Blue Knights for nine years. "The community here is amazing. So many people care about Olney Central College and the men's basketball program. It's something I loved being a part of the first time I was here and something I'm looking forward to now. This is where I started as a head coach at the collegiate level and this is where I want to end my coaching career. I feel like I have come full circle."
Glash coached the Blue Knights from 1996 to 2005, finishing with an overall record of 160-121 and 74-54 in the Great Rivers Athletic Conference. OCC captured the 1999-2000 conference title and Glash was named GRAC Coach of the year in 2000. During his tenure, OCC had eight consecutive years of upper division finishes in the GRAC.
Glash's biggest victory at OCC happened on Feb. 15, 2001, when the Blue Knights defeated No. 1-ranked Wabash Valley College, 71-69. The Warriors would go on to capture the NJCAA Division I national championship later that year.
Glash brings 30 years' coaching experience to OCC, including a combined 19 years at OCC and NCAA Division II Missouri University of Science and Technology at Rolla. Glash spent 10 seasons with Missouri S&T after being named acting head coach during the second half of the 2008-2009 season.
While at Missouri S&T, Glash coached the NCAA Division II Capital One 2013-2014 Academic All American of the Year Bryce Foster. Glash's biggest win with the team came on Jan. 5, 2012, as the Miners defeated NCAA Division II No. 2-ranked University of Southern Indiana, 62-55.
Glash entered college coaching in 1982 at NCAA Division I University of Illinois at Chicago. He served assistant coaching stints at North Park College, Kennedy-King College and Columbia College. Glash recently spent two seasons as an assistant coach at Vincennes University before returning to OCC.
"I am so excited to be back with the Blue Knights," he said. "We had a tremendous run. My nine years here I thought we really did a good job at putting academics first, basketball second and molding good, socially responsible people always. We want to live those priorities."
Under Glash, the program touted a 93-percent graduation rate and had 39 players receive full athletic scholarships to four-year institutions.
"I feel like I had the greatest influence on the lives of student athletes here more than anywhere else," Glash said. "The players during those nine years, some of them have gone on to have tremendous success stories. I would like to bring those former students back here so they can share where their OCC education led them in life."
Since assuming his new duties on April 25, Glash has been busy actively recruiting players, with trips to Chicago, St. Louis, Kentucky and Florida.
"I want to get young men who will help us be successful at Olney Central College and who want to be coached," he said. "We want players who will be successful in athletics and academics and have a career beyond Olney Central."
Glash is looking forward to making commitment announcements in the coming weeks as he prepares for the 2022-2023 season.
"I am so appreciative to President Rodney Ranes, Athletic Director Dennis Conley and the community through the application process," Glash said. "There was an outpouring of people in Olney that let me know about the opening and thought it would be wonderful if I came back to be a part of the program again."
He added, "I am so happy to be here. I think I'm the luckiest person in coaching. I get to go back to a place I love being a part of."