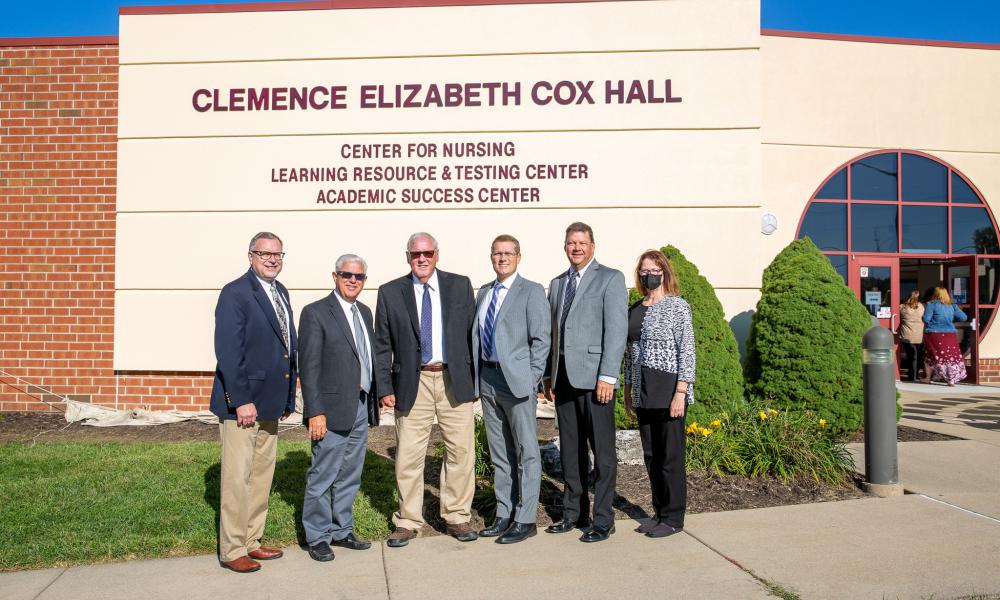 Sep 30, 2021
A building on the campus of Frontier Community College has a new name thanks to the generosity of an area resident. Clemence Elizabeth Cox Hall, named in memory of the mother of Jerry Cox, will serve as the home for FCC's Center for Nursing, Learning Resource Center, and Academic Success Center. "I wanted to do something to honor my mother and continue to honor nurses," said Mr. Cox. "I hold nurses in high regard after serving in Vietnam and seeing firsthand what nurses do for our country. I still see how important nurses are through my own health while receiving care through VA services. I've personally seen the dedication of nurses to the men and women in our armed forces on the front lines and now during a global pandemic in the ongoing battle with COVID-19."
Sarah Rush, President of the Frontier Community College Foundation, says this gift will change the trajectory of both the college and the students it serves. "This was a significant gift to the institution, and it will open opportunities for students to attend that otherwise might not have been able to," said Rush. "We're blessed that many people from Fairfield attend Frontier Community College for the Nursing Program and then stay here to live, work, and make our community a better place."
IECC Board Chairman Gary Carter emphasized the importance of community involvement in their community college as Frontier continues to provide access to quality education. "It is important for our communities to take ownership of their community colleges," said Carter. "Generous gifts like Jerry's means so much to our students and they literally change their lives and by extension the lives of everyone in our area." 
A recent economic impact study supports Chairman Carter's position. According to the report, authored by EMSI, graduates of Frontier Community College can expect to earn nearly $300,000 more over their career compared to those who only complete high school. Those dollars are naturally reinvested back into the community through property taxes and consumer spending. But according to Chairman Carter, the benefits don't stop there. "While we are teaching our students how to make a living, we also create opportunities to teach them how to live. Through our athletics and student organizations, we get our young people involved in service opportunities and encourage them to give back to our community with their time. The bottom line is that Illinois Eastern Community Colleges is here to strengthen our communities. Under the leadership of Chancellor Gower, we're progressing and making our colleges even better."
For Jerry Cox, the decision to support the College was an easy one. "I've been donating for a long time, and I've always participated in the growth of students at Frontier Community College. I've seen how they have a significant impact on our community with their hard work." Area residents who would like to join Mr. Cox in supporting Frontier Community College can contact Sarah Rush at rushs@iecc.edu.
 
Left to right, Juliana Fleming (nursing instructor), Carleigh Yeager (recipient), Madeline Stence (recipient), Jerry Cox, Melissa Coggin-Prosser (recipient), Beth Crask, (recipient), Sarah Rush (FCC Foundation President), and Julie Bullard (FCC Nursing Program Advisor)
Additionally, the Foundation had a portrait commissioned by local artist Vicki Gifford of Mrs. Cox to hang in the lobby of the newly rededicated Clemence Elizabeth Cox Hall.