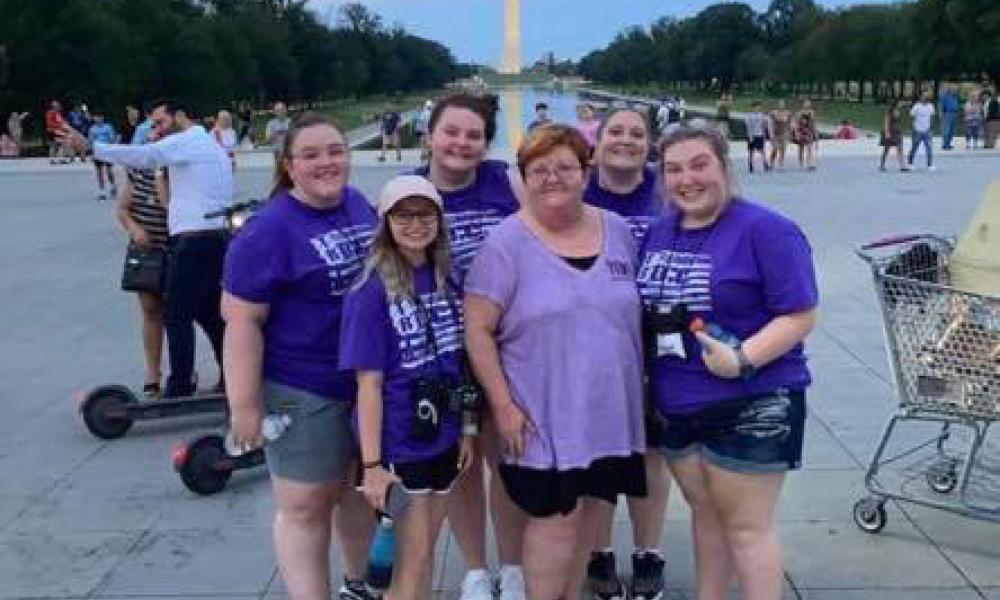 Sep 15, 2021
On Sept. 11, 2021, Tayna Smith, the Academic Counselor for the WVC TRIO Student Support Services program, noted several reflections on her students' recent visit to the nation's capital.
As part of the trip in July, the group, along with the Illinois Eastern Community Colleges TRIO Student Support Services, went to the National 9/11 Pentagon Memorial. It was a sobering experience.
One of the first students who posted was Katelyn Wagner, a Peer Mentor of the TRIO SSS program at Wabash Valley College.  
"I am so lucky to have been able to go on the trip to Washington DC and see the Pentagon. These pictures don't do this memorial justice. Being there, so close to the Pentagon, learning about it, seeing the exact spot of the crash, will be something I never forget."
Christan Manning, a first-year TRIO participant, wrote, "When our tour guide told us how they set up the memorial at the Pentagon and what it all meant, it took me back to Sept. 11, 2001. It was a beautiful morning. My college classes [at VU] started around 8:30 a.m. I remember being there for just a few minutes when my teacher told us to get to the common area. We were a small class, five young women, all studying for our pharmacy tech certification. We all sat, huddled around together, anxiously watching the tv. None of us thought any of this was happening. We were on lockdown at the college until anyone could say it was safe to leave. I remember thinking that this was the end of America, if not the world, and I needed to get home to my baby, who had just turned 2. If I was going to die, I wanted to be home with him and my mom, who was watching him. I was in such a hurry that I actually ran out of gas and luckily got a ride home. I got home, and all we did was watch the TV.
Seeing the actual memorial at the Pentagon was heart-wrenching. I had to walk off alone. I wept. I wept for all those people who died. I'm very empathetic, so I imagined myself on that plane, holding my family, praying, crying, trying to make peace with death. It brings me to tears now as I write this and relive that day.  How can anyone have so much hate in them? I don't think I will ever understand. So, seeing the memorial was very moving and emotional for me. For those of us old enough to remember it, it has the same impact, I am sure."
Smith commented a few weeks ago what the most memorable part of the Washington DC trip was, and she said it was the visit to the National 9/11 Pentagon Memorial.