All Programs at OCC
Code
Program Name
Offered At
Gainful Employment
C504
Industrial Maintenance HVAC I (INDMA)
OCC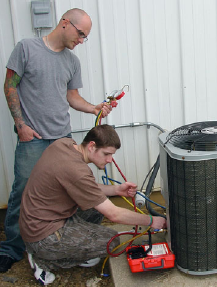 Program Overview:
The Industrial Maintenance HVAC I program will provide students with the skills required to enter the field of heating, ventilation, and air conditioning. Students will be qualified to find jobs as entry-level HVAC technicians. Installation of new systems and repair to existing HVAC systems for residential and commercial (small business) purposes will be covered. This program also targets incumbent workers who desire to broaden their skills for a career change or for advancement consideration.
PRINT with Descriptions
|
PRINT
Semester 1
---
Prefix/Num
Title
Info
CR
FA2019
SP2020
Semester 2
---
Prefix/Num
Title
Info
CR
FA2019
SP2020
We recommend that you contact an advisor before enrolling in any program to ensure all requirements are met including total hours associated with transfer courses.
This is a General Education or Elective course to be selected and therefore has no schedule link.