Technical Certificates
IECC currently offers an extensive selection of Career and Technical Education (CTE) certificates. Advisory Councils, comprised of representatives from business and industry, support each career and technical program with advice and recommendations for improvements. These councils ensure that IECC's career and technical programs are current with "best practices" in the workplace.
The IECC nursing program, administered through Olney Central College, is available at all four colleges.
Code
Program Name
Offered At
Gainful Employment
C116
Turf and Landscape Design (AGB)
WVC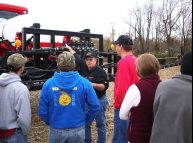 Program Overview:
The Turf and Landscape Design certificate is designed as a stand-alone certificate for individuals specifically interested in training for the horticulture/lawn care industry. It will also serve the students of the Agricultural Technologies program (AAS degree) by increasing their marketability through cross-training within the agricultural field.
PRINT with Descriptions
|
PRINT
Semester 1
---
Prefix/Num
Title
Info
CR
FA2019
SP2020
Semester 2
---
Prefix/Num
Title
Info
CR
FA2019
SP2020
We recommend that you contact an advisor before enrolling in any program to ensure all requirements are met including total hours associated with transfer courses.
This is a General Education or Elective course to be selected and therefore has no schedule link.