Technical Certificates
IECC currently offers an extensive selection of Career and Technical Education (CTE) certificates. Advisory Councils, comprised of representatives from business and industry, support each career and technical program with advice and recommendations for improvements. These councils ensure that IECC's career and technical programs are current with "best practices" in the workplace.
The IECC nursing program, administered through Olney Central College, is available at all four colleges.
Code
Program Name
Offered At
Gainful Employment
C503
IMT: Level III (Industrial Maintenance Level III) (INDMA)
OCC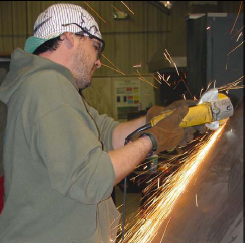 Program Overview:
The Industrial Maintenance Technology program is designed to train students for employment and advancement in today's technologically advanced industrial workplace. The program provides students with a progression of three certificates that lead to the degree and provides current industry employees the opportunity to complete course requirements while maintaining a work schedule. Also, coursework included in the degree may transfer to a four-year college or university.
The certificate and degree programs qualify graduates for machine maintenance positions or advancement in the industrial plant.
Selected Technical Studies
- Requirements in this area may be fulfilled through:
- Military Transcript (ACE)
- Internship
- Independent Study
- Specialty courses in heating, ventilation, air conditioning, welding, machine trades, process control or other technical courses from FCC, LTC, OCC or WVC are encouraged.
- Proficiency tests
Students must work with the IMT advisor to develop a plan for completion of the Technical Studies.
PRINT with Descriptions
|
PRINT
Semester 1
---
Prefix/Num
Title
Info
CR
FA2019
SP2020
We recommend that you contact an advisor before enrolling in any program to ensure all requirements are met including total hours associated with transfer courses.
This is a General Education or Elective course to be selected and therefore has no schedule link.