Welcome to IECC!
At Illinois Eastern Community Colleges, we believe in the power of lifelong learning. As an educator, we're thrilled to have you as part of our community of dedicated professionals.
The IECC Center for Excellence in Teaching and Learning is here to support your professional development journey. We're excited to offer you an array of valuable courses and resources to enhance your teaching skills and expand your knowledge.
To ensure a seamless experience, we want you to go through the same admission and registration process as the students in your classes. Please follow the steps below:
🌟 Apply and create an IECC student account by visiting our website.
📝 Register for the relevant CETL courses that align with your professional development goals.
Should you encounter any difficulties during the registration process, we're here to help! Feel free to reach out to Frontier Community College Admissions and Records by calling (618) 842-3711  or  (877) 464-3687 for prompt assistance.
Get ready to embark on an enriching journey of growth and learning. We can't wait to see the positive impact you'll make as an educator at IECC!

Easy Registration Process!
Attention instructors:
If you already have an account created, you're just a few clicks away from registering for your desired courses through Entrata. Here's what you need to do:
🔒 Login to your account on Entrata.
🖱️ Click on the STUDENTS tab on the left-hand side.
📝 Select REGISTRATION from the options on the right-hand side.
It's as simple as that! You'll be on your way to exploring a world of knowledge and enhancing your teaching skills.
Refer to the image above for visual guidance.
If you have any questions or need further assistance, please don't hesitate to reach out to our dedicated support team.
We're excited to have you as part of our instructor community!
Easy Steps to Enroll!
👉 Go to www.iecc.edu/apply and click on Frontier Community College (regardless of your campus).
📝 Click on CREATE ACCOUNT and fill in your basic information:

a. Name, Email, and Birthdate
b. Entry Term = Fall 2022 or Spring 2023
c. Admit Type = I already have a degree
d. Location = Frontier Community College
e. Program = Voc Skills General VS-VSKGE4
f. Set your password and click CREATE ACCOUNT

✅ Click CREATE NEW APPLICATION and complete the application.
📧 After completing your application, check your email (from accounts@iecc.edu) for ENTRATA portal setup instructions.
🔐 Set up your ENTRATA portal following the instructions provided.
🖱️ In Entrata, click on the STUDENT tab on the left and select REGISTER FOR CLASSES.
🔒 Your PIN for this semester will be 2360.
📚 Pick your classes from the list below and use Self-Service to Register for your upcoming training.
Step-by-Step Directions
To view step-by-step directions with screenshots, click the link below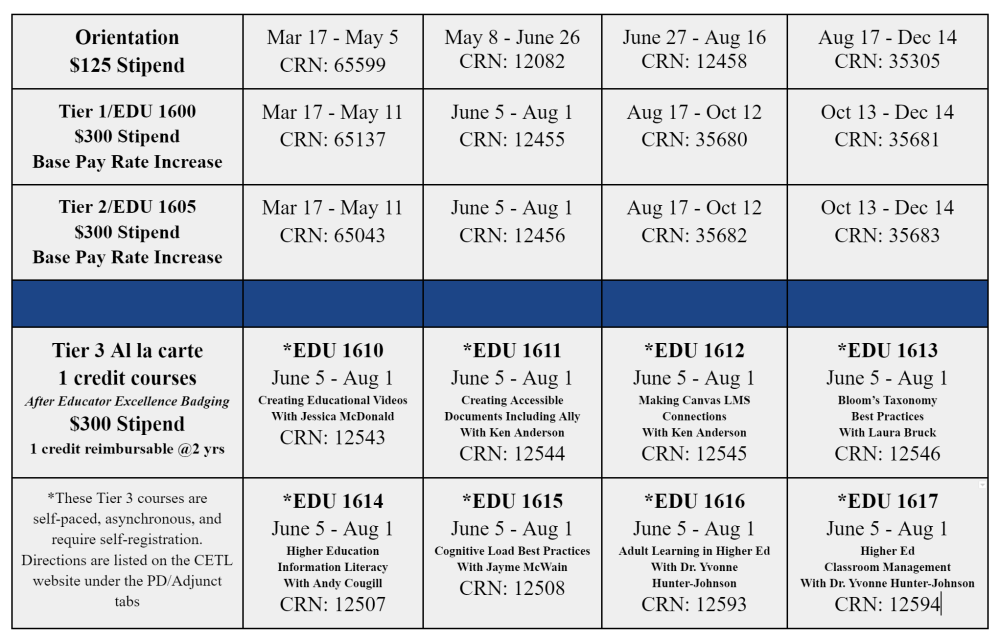 Important Communication Notice!
Attention adjunct faculty:
We want to ensure that you stay informed and up to date with all the latest news and updates from the CETL. That's why we'll be using the IECC email system as our primary communication channel.
It is crucial that you regularly check your IECC email address to receive important communications, updates, reminders, information about new courses, stipend details, and more.
If you encounter any issues accessing your email account or need assistance, don't worry! Our dedicated IECC Help Desk is here to support you.
Contact the IECC Help Desk during the following hours:
⏰ Monday to Friday: 8:00 a.m. - 4:30 p.m. (Fall and Spring)
⏰ Monday to Friday: 7:30 a.m. - 4:00 p.m. (Summer)
Call 855-519-4357 or visit helpdesk.iecc.edu for assistance.
Don't miss out on important updates and valuable information. Stay connected with the CETL through your IECC email!
Your success is our priority!