All Programs
(Consumer Information Disclosure)
List of all programs offered. Click on the program name below to learn more about the specific program including an overview and requirements.
C260
Cosmetology (COSME)
OCC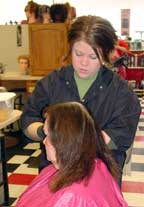 Program Overview:
The Cosmetology program is a career and technical program licensed by the Illinois Department of Financial and Professional Regulation. Satisfactory progress in the program will more than meet the 1,500 hours required by the Department of Financial and Professional Regulation before taking the state licensing exam. In order to accomplish this, students are enrolled for 40 hours per week, Monday through Friday, when school is in session. Students are accepted into the program at the beginning of the fall and spring semesters and must complete three (3) consecutive semesters which will include one (1) summer session. In addition to tuition, cosmetology students are required to buy a lab jacket, clinic shoes, a cosmetology kit, mannequin, and textbooks. Completion of the program qualifies the student to take a state examination for registration as a licensed cosmetologist in the state of Illinois.
To qualify for ranking, all applicants must meet or exceed the requirements listed below:
1.
Complete an application to Olney Central College by March 1 for fall admission or by October 1 for spring admission.
If an applicant does not qualify for ranking during the term requested or is ranked but not admitted, it is the responsibility of the applicant to notify the cosmetology advisor they wish to be considered for the next entry point.
2. Submit official copies of high school transcript or GED scores and previous college transcripts if applicable.
3. The applicant must have earned a minimum cumulative GPA of 2.0 for all college level courses. If college coursework has not been completed, a cumulative high school GPA of 2.0. Students making application for the same year they graduate from high school must have a 2.0 GPA at the end of the first semester of their senior year to be eligible to apply. Passing the GED Test will meet this requirement.
4. Placement test scores must be at the 34th percentile or above in English, reading and mathematics.
PRINT with Descriptions
|
PRINT
Gainful Employment Consumer Disclosure Information
Semester 1
---
Prefix/Num
Title
Info
CR
SP2018
Semester 2
---
Prefix/Num
Title
Info
CR
SP2018
Summer Semester
---
Prefix/Num
Title
Info
CR
SP2018
We recommend that you contact an advisor before enrolling in any program to ensure all requirements are met including total hours associated with transfer courses.
This is a General Education or Elective course to be selected and therefore has no schedule link.